ALPHA TROJAN UV MAX ULTRAVIOLET LIGHT

STANDARD FEATURES:
HEAVY DUTY PRESSURE VESSEL
STAINLESS STEEL LINING
30,000 M.W. SEC./CM2 OF ULTRAVIOLET RADIATION
HEAVY DUTY INTEGRAL QUARTZ JACKET TO PROTECT U-V LAMP
LIGHT SENSOR WITH AUDIBLE ALARM INCLUDED WITH UV MAX SERIES
SOLENOID SHUT OFF (AVAILABLE)
---

MOST MICROORGANISMS ARE DESTROYED WITH UNDER 10,000 M.W. SEC./CM2 OF U-V RADIATION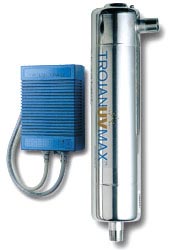 E. COLI 6,600
COLERA 6,500
INFECTIOUS JAUNDICE 8,000
DYSENTERY 4,000
BACILLUS ANTHRACIS 8,700
INFECTIOUS HEPITITIS 8,000
TYPHOID FEVER 4,100
POLIOMYELITIS 6,000
STREPTOCOCCUS 8,800

APPLICATIONs
DOMESTIC WELL WATER
RESTAURANTS
HOTELS
WASTEWATER TREATMENT
FOOD PROCESSING
---
---
Copyright © 1995-2016
Alpha Water Systems Inc.